Solitude, practice, and taking your time
I recently finished a three-month trip where I was supposed to be resting. This was meant to be a counterbalance to several years of 100K+ miles of air travel and the dénouement that comes after the climax of hands-on parenting. And, I was really, really tired. While I was away, I was invited to contribute something to The Human In The Machine project and write about productivity. It was about all I got done while I was gone.
I. Kerikeri, New Zealand
Solitude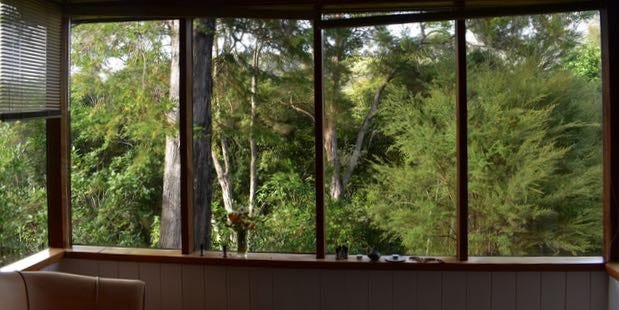 I spent my first month of rest in a cabin in the woods of New Zealand that was one large room with some partitions. So I knew where to cook, where to sit, and where to sleep. There was a bathroom. I'm not a romantic when it comes to getting away. So lest you think I was in a back-to-nature utopian frame of mind in New Zealand, I have to confess that the cabin had a very fast broadband connection.
I have certain expectations and a context to my life. Call it privilege. Call it what I'm used to. Call it an addiction. I don't mind what label you put on it. I like my tools and that includes Internet-enabled ones. For me, Internet access is on the list of things I must have in a cabin: chocolate, sunlight, a fan, electricity, running water, foot coverings, mosquito nets, fire, blanket, and the Web.
Surfing the Web is just as good as a walk through the woods. It is a rambling excursion for the brain. Like unplanned treks on unknown terrain, you can get lost on the Web or find yourself in deadly places. So you have to be careful and take a knife. But I didn't surf. I mostly watched movies.
I was without a vehicle in Kerikeri and had made what I thought was an adequate grocery store run before I arrived at the cabin. I put a chicken in a pot and poached the meat off the bones. I took it out of the pot and put the bones back in with some vegetables to make a chicken broth. I washed rice and made chicken and rice from the broth. I supplemented my store-bought supplies with food picked from the late summer garden just outside my door.
In the later weeks (and because I didn't understand what shopping for a month was), I had to lean heavily on that garden. Four oranges in the morning make a glass of orange juice. Potatoes, carrots, onions, and beets make a frittata. And apples. I picked them. I ate them. I fried them in butter (while I had it) with a little salt. I made applesauce. I ate them out of hand. And in the end, I threw a bunch of them on the compost heap. I found out later that I could have ordered groceries over the Internet and gotten then delivered.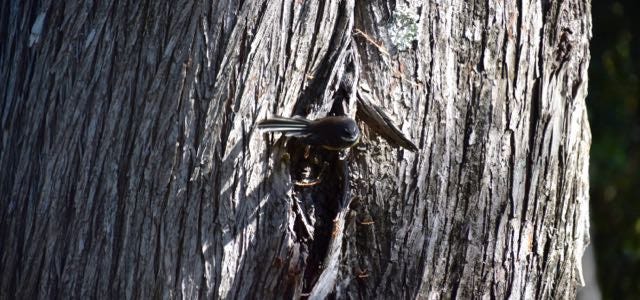 Eating takes time — as does washing your clothes by hand and waiting for them to dry on the line. You have to do these things even when you are supposed to be resting and doing nothing if you want to eat and have clean clothes to wear. After a while, I discovered that food and clean clothes were overrated given the effort it took to generate them. There are things you can get away with when you are alone. So in the interest of having more time to sit at my window and look for the same bird to visit the same spot on a tree many times a day, I quickly settled into sort-of-clean clothes and one meal a day — and apples.
II. Tegallalang, Bali, Indonesia
Practice
The next month I spent in Bali. There I went for a 21-day Panchakarma treatment. Panchakarma means "five procedures." You can look up the five procedures on the Web if you'd like to know more. It's not for the squeamish. (That's a disclaimer.) If you don't want to look, I will say by way of a description that if there is anything nonessential in your body — anything at all — after 21 days of these five procedures, it will have been eliminated. Panchakarma is a lesson in productivity.
During Panchakarma, I fell into a practice. I got up to a bell at 6:00 AM. I did yoga asanas, pranayama, and meditation twice a day. I received two treatments daily wherein I was massaged, scrubbed, pounded, and made to sweat. I gazed across rice paddies and sipped herbal teas. Very nice people did my laundry and brought me multi-course vegan meals on trays. It was all very elegant.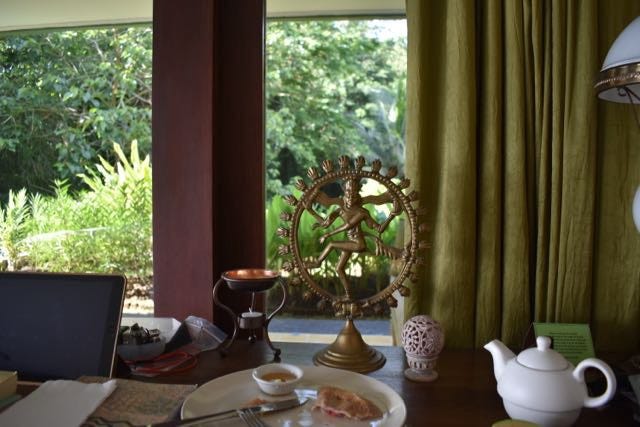 In particular, I appreciated the effort put into peeling, scraping, and spiraling the vegetables and cutting the fruit into interesting and artful shapes. I told my servers so. What I didn't tell them was that recently I had been very close to eating vegetables whole and raw out of the ground thanks to, well, laziness. I became re-civilized. I was purified by water and blessed. I drank medicinal elixirs concocted and prepared just for me. I slept. My doshas were rebalanced.
As if by design, my room was next to the treatment center, where there was Wi-Fi and a fast broadband connection. I had a patio overlooking a garden with a small labyrinth — a place to meditate, spot geckos, and dodge mosquitos.
At night, when the staff had gone home, I was alone with the broadband, but I found myself abandoning the Internet in favor of listening in on the local gamelan band practice. There were two local bands, one on either side of the rice paddy outside my room. One was really good and the other? Not so much. But they were practicing — noisily working to get better.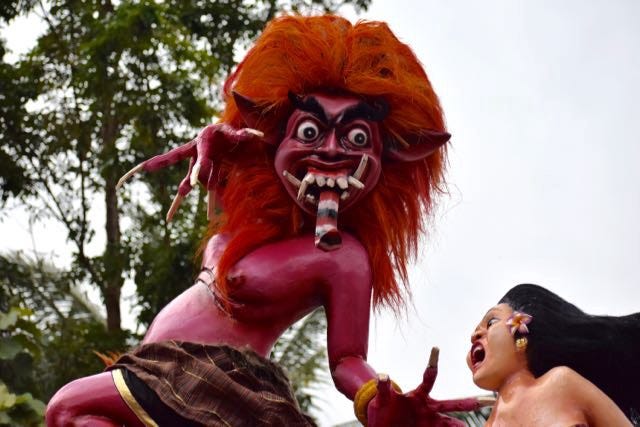 In general, Bali was noisy: roosters crowing, gamelans clanging, motor bikes gunning, whistles blowing, pigs snorting in the brush. And then, one day it all fell silent. On Nyepi, the day after the fearsome Ogoh-ogoh are carried through the streets and burnt at the cemetery and all the gamelan practicing comes to a raucous finale, the airport closes, the lights are turned off, and everyone stays at home in a day of silence.
So much work to produce a beautiful nothing.
III. L'île de Gorée, Dakar, Senegal
Taking your Time
The last month of my getaway I spent on L'île de Gorée, which is just off the coast of Dakar, Senegal. I wasn't supposed to go to Senegal. I was supposed to go to Bologna, Italy. And I did at first. But when the flat I had rented turned out to be tight, chilly, and dank, and someone called me a stupid African because I didn't weigh my vegetables in the grocery store, and I was told that I would have 2GB of Internet data for an entire month, I had to leave. I consulted my air miles, looked at a map, repacked, and flew to Senegal, where it was warm and there was a room in a house with broadband.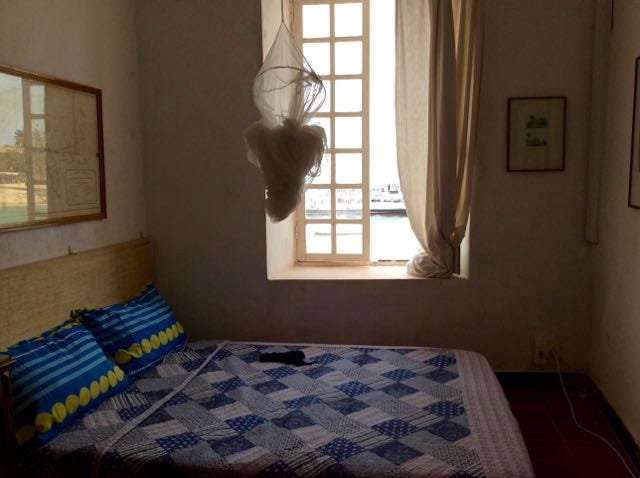 On Gorée, I had a front row seat to productivity. I woke up to the early morning call to prayer and fell asleep to the horn blow of the final ferry. The rhythm of the island came from the arrival and departure of that ferry. The window of my room faced the dock, and I watched the repetitive turn of people: tourists, school groups, vendors, artists, and teens glued to their smartphones, just there to spend a day on the beach. The tourists were sold to, fed, drummed at, and then, with the school children, walked up the hill known as the Maison des Esclaves, where they paused to consider the soul-crushing truth of the trans-Atlantic slave trade. Next, they were marched all the way to the top of the island, passing by the artists and their works for sale, to consider the view of Dakar. Finally, they were taken back down to the boat.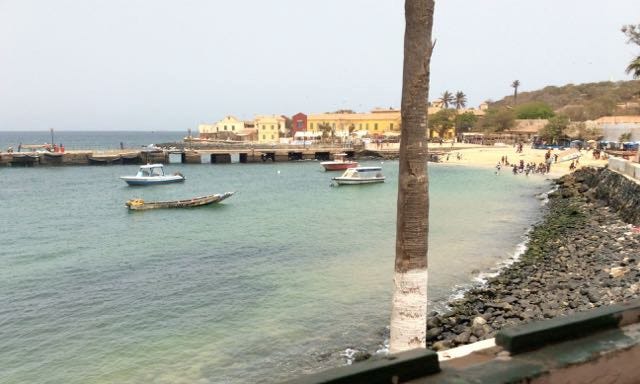 But before the tourists and school children arrived in the morning and after they left in the evening, the island was very quiet. Every day, on my way up the hill to get breakfast, I saw little children run to meet the boat that delivered the morning bread. I then watched them return, proudly marching up the cobblestone path carrying their baguettes, which sometimes seemed as tall as they were. Women swept and watered the ground while the men picked the previous day's litter from the sand and hauled it away in donkey-drawn carts over large cobblestones. From my bedroom window and the courtyard of the house where I stayed, I watched the ocean and nervously monitored the intermittent bailing of the fishermen in their boats as they waited for something to catch their line. And from my bed, I listened to their singing as they hauled in their nets in the late hours of the evening and the early hours of the morning.
Every morning, while I was at breakfast, someone mopped the dust from my floor, made my bed, and tied up my mosquito net. I washed my clothes in the bathtub and dried them on the line. I wrapped up my leftover breakfast in a napkin for lunch. I had tea for dinner most evenings, but a couple of nights a week, I went to one of the local restaurants, where indulged in grilled fish. I then sat and read.
One day, I took the ferry to Dakar and went to the Marchée HLM, where productivity was at its most rampant. Here, baubles, bags, shoes, and clothes are thrust at you for purchase, and everything is a serious negotiation. A tailor made me eight dresses in two days — an extravagance, of course. They were beautifully cut, lined, immaculately finished frocks.
The garments were impressive but the real gift came from the man who helped me. First there was his patience as I spent two hours sifting through fabric and debating cuts. Then there was the gentle head shake and slow blink when I pointed to something he knew would not work. Yes, I was a customer, but still he was generous with himself and of his time. He showed me pictures of his family and asked to see photos of mine. He wanted to know about my son, my parents, and the other recipients of the gifts I was buying.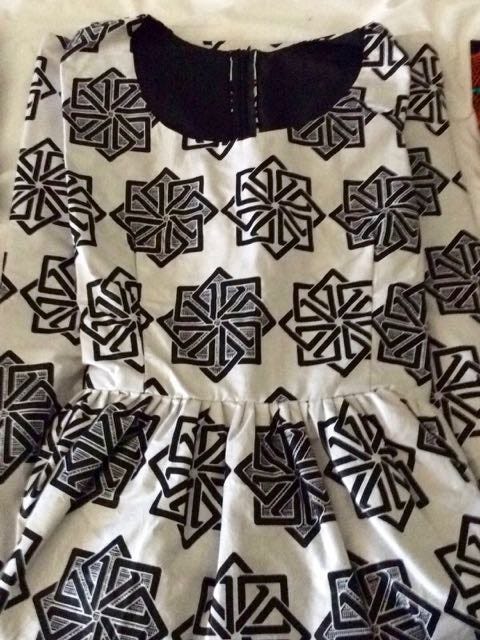 Later, when I picked up my dresses, I used Google translate to piece together enough French to ask him how he worked so quickly with such a great result. He looked at me with an expression of almost surprise and said, You take your time, and I have help.
I have always known that doing everything at once, in a rush, just to cross things off a list has not been a great work strategy. But I have also known that extreme rest is an aberration. Speed and intensity do not always make more, and lounging about long-term doing nothing while others attend to you might be necessary in order to become well — but it is also not a good long-term path. It likely means that you are not engaged in living your life and are, perhaps, even selfish. Working too hard makes you forget these things. Of course, after some time away and blinding distractions pushed aside — even my beloved Internet — I can see this. I know this. I can observe that most things I have done well are the result of solitude, practice, and taking my time. What's more, I know that I get nowhere — and indeed have gotten nowhere — without the help and support of generous people.
Things are in such a turmoil right now — they always have been for many people, but for those of us who live a privileged life, the challenges are new and we are overwhelmed. But we have this. If we all embrace the solitude to rejuvenate, practice so that we have real skills to contribute to the world, and take the time to do our best job, enough vital work will get done — and there will be ample time for the work of kindness. There will be time to help each other. For those of you, like me, who have fallen away from this place of balance, our natural healthy state, please work hard to get back there. We need you.